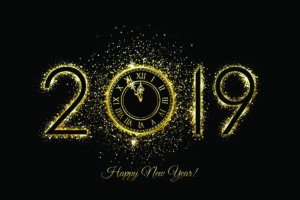 Happy 2019! Do you make a financial New Year's resolution only to watch it crumble by Valentine's Day? Don't feel bad. Most of us break our resolutions before we've finished the Christmas cookies. I want 2019 to be the year you succeed. Next December 31st, I want you to look back and see the progress you made toward your financial goals. Here are a few tips.
Create a concrete plan. Vague goals like, "I want to save more money," never give you a sense of accomplishment because you can't tell when you have been successful. Instead, try to save a specific amount each month. It both holds you accountable and lets you celebrate success.
Be reasonable. If you are saving nothing right now, you probably won't be able to save a large portion of your salary each month. Set your sights lower, and then be determined to achieve it.
Break large tasks into smaller pieces. If you have a major goal for the year, try to accomplish 1/12 of it each month. • Resolve to take full advantage of any employer contributions to your retirement account. If the employer matches your contributions, try to maximize the match.
Don't give up. When people aren't successful, they lose hope and stop trying. The best way to achieve your resolutions is to pretend every day is New Year's Day.
A new year is a great time to review your financial life and create a plan for achieving your goals. A year from now, you'll be glad you did.
Be Prosperous! Peggy