Every quarter, I write a newsletter that updates what's new at D.M. Wealth Management, Inc., summarizes and analyzes stock market and economic data, offers a financial planning article, and shares pictures. This week, for my blog post, I'm providing a copy of the update letter and the pictures. If you want to subscribe to the newsletter, please provide your email address in the form on the sidebar to the right.

What's New?
The first quarter of D.M. Wealth Management, Inc. has been busy. If you are a portfolio management client, you will be getting a letter soon from me explaining some refinements in my portfolio management process. I will be handling the money in a way more similar to an institutional money manager, using techniques that most advisers outsource to third parties. I am entirely too much of a control freak to turn over portfolio management to anyone else, but I believe these new strategies will allow me to manage money more effectively as the practice grows. If you aren't a portfolio management client, you can contact me for more information!
Thank you, Norman, for voting me the Best Financial Planner/Advisor in The Norman Transcript's Reader's Choice Awards! Being honored by you is humbling, and I will continue to do my best for my clients and this community. I was also nominated for okc.biz Best of Business as Best Local Investment Advisor/Provider. Thank you, Oklahoma City and Gazette readers for that honor.
This quarter I organized an Advocacy Day at the Oklahoma state capitol for the Financial Planning Association of Central Oklahoma. We met with lawmakers and reaffirmed our commitment to the fiduciary standard for all financial advisers. Unfortunately, President Trump and the new head of the Department of Labor have delayed the implementation of the Conflict of Interest Rule (i.e., the Fiduciary Rule) for at least two months, moving it from April to June of this year, and there are some indications it will never be enforced. Sadly, this means financial advisers will not be required to act in the best interest of clients who give them retirement plan rollover money to manage. I'm still amazed this is even an issue, but it is. I will be going to Washington, DC with the Financial Planning Association in June to talk to members of Congress about the importance of the fiduciary standard. I was asked to serve on the legislative task force for FPA, so I am helping to shape the direction of the advocacy efforts. I really enjoy being involved in politics as a voice for the consumer!
Additionally, I spoke at the Norman Public Library as part of a panel discussing Pioneer Library System's "Big Read" book for 2016. Being Mortal by Atul Gawande discusses end of life issues, and I spoke on estate planning and paying for long-term care. It's a tough book, but I really enjoyed getting to be part of the conversation.
I have begun posting a weekly blog entry on www.prosperousblog.com. This month's article is one of my posts about the fees associated with an investment account. I hope you enjoy it!
Be Prosperous!  Peggy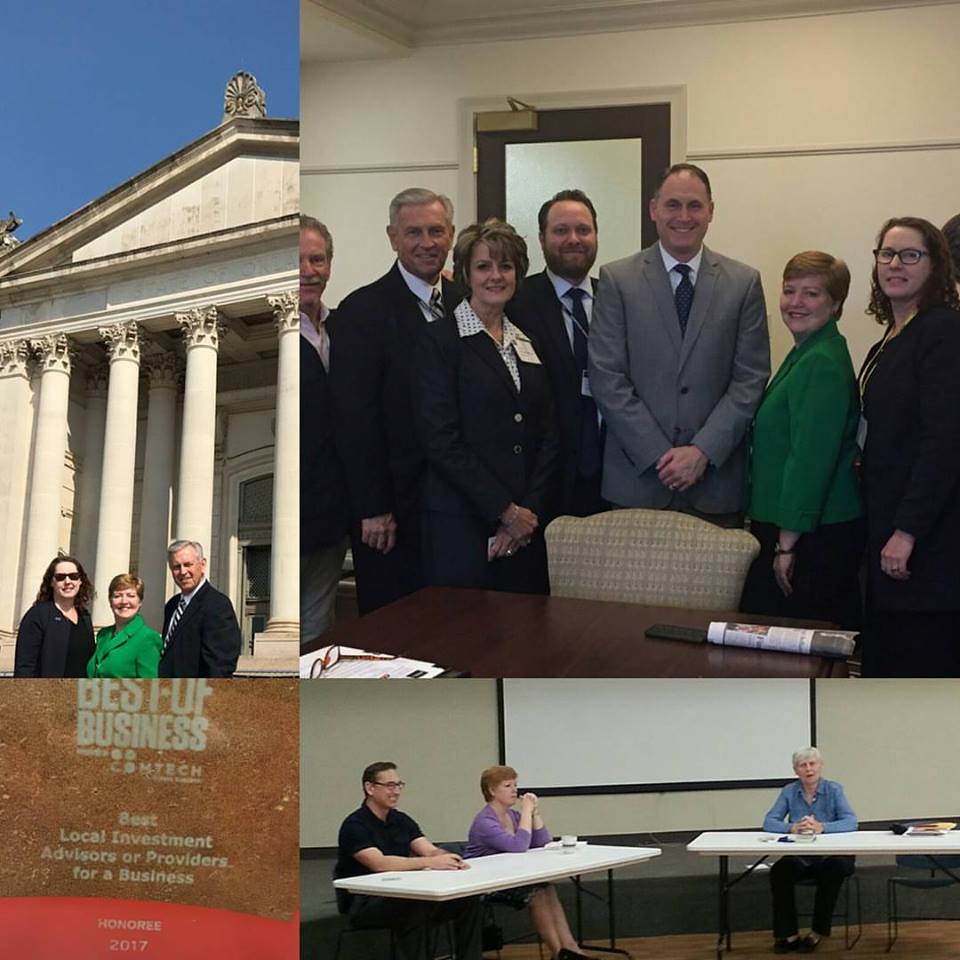 Oklahoma Capitol, with Rep. Scott Martin and FPA of Central Oklahoma, Best of Business awards luncheon, Norman Library for the "Big Read" panel